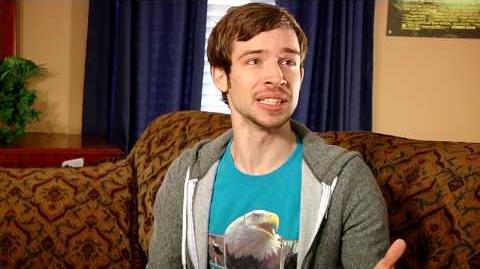 Serenade is the final comedy sketch from BalloonShop.
The video begins with Olan greeting Thomas and Josh, looking very sad. When Thomas asks what is wrong, Josh answers that Olan is sad because his girlfriend probably is going to a Josh Groban show and she can't hang out with him tonight. Olan confirms Josh's assertion, and Josh proceeds to cheer Olan up by singing "You're Beautiful" by James Blunt. Thomas claps randomly throughout the song. Olan seems to become increasingly upset as the song goes along, eventually crying through every pore in his head. He states that he is even sadder now because "that song is just the worst." The video ends with a clip of Thomas throwing a fork at Josh's head, located directly in front of a dartboard, with Olan egging him on. 
Characters
Edit
Olan Rogers as himself
Thomas Gore as himself
Joshua Persely as himself
Because the video ends with the fork in mid-air hurtling towards Josh's head, many fans have speculated that Josh's resulting injury was the reason BalloonShop stopped making videos. However, this was never confirmed.
Thomas makes a reference to "Hip Hop," another BalloonShop video.