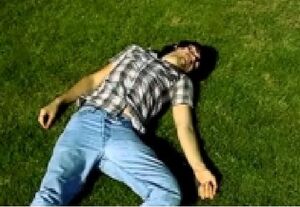 Hey Ben is a sketch from BalloonShop.
The sketch starts with Olan Rogers and Joshua Pursley lying in a field. Olan starts to utter the phrase "Hey Ben" multiple times referring to Joshua (Ben). After gaining his attention, he asks in a rough voice, "What you got there, Ben?", and Joshua responds, "Meat", while holding a piece of raw meat. He tosses the meat on the ground and the sketch ends.
Characters
Edit
Olan Rogers as - Ben's Friend
Josh Pursley as - Ben
Items or Props
Edit
They did this sketch in the same place as the sketch "Back to Basics".
The field is known to have ducks.
Ad blocker interference detected!
Wikia is a free-to-use site that makes money from advertising. We have a modified experience for viewers using ad blockers

Wikia is not accessible if you've made further modifications. Remove the custom ad blocker rule(s) and the page will load as expected.